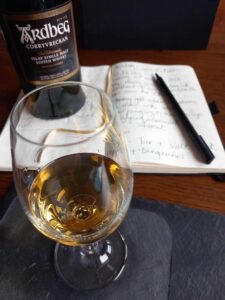 Islay Whisky Academy
Slow fringing teardrops/legs. Very satisfying coherent movement of liquid in glass when swirled around.
Cold slices of roast mutton. Raspberries. Pears. Sultanas.
Palate:
AMAZING! Mouthfeel is SO heavy and malleable. Liquid moves like heavy, old, high quality satin.
Absolute buzzing on front of gums – like they are about to sneeze!
2nd Nose:
Coiled tarry ropes. Fresh white peaked icing on a Christmas cake.
Length:
Lovely linger into the chest. Takes a while for this to arrive. Timing is amazing – mouthfeel diminishes, then you feel the sensations in your chest.
2nd Palate:
Adrid Peat and honeycomb. Amazing balancing sourness at the back of the mouth from the oiliness.
This is a fantastic dram. I forgot how good it is.