FULLY BOOKED! SOLD OUT. 
PEAT CUTTING ADVENTURE
~~~~~~~~~~~~~~~~~~~
MONDAY 30 MAY @ 13.30.  At The Bothy on the Moss
The Earth of Islay: A Peat Cutting Adventure
For the adventurers and the ones who aren't afraid to get their hands dirty!
Tickets are £38 per person
INCLUDES OATCAKES AND CHEESE AND A FEW DRAMS
Rooted in the earth of Islay, peat is an essential component of not just Scotch whisky, but local life as well.
When we talk about whisky, especially the characterful Islay drams, we are never far from mentioning peat. You may have smelled and tasted peat before, but now you have the opportunity to "meet" it in person!
In this 1.5 hour workshop, embark on an adventure!
Join local experts and learn how to cut, fit, and stack peat with your own hands. Explore the nuances of peat in an unforgettable setting.
And what is work without play? You'll also learn Gaelic work songs and enjoy great craic with your hosts. At the end of the session, celebrate your hard work with cheese, oatcakes, and a selection of good drams.
Through peat, connect with a long-standing Gaelic tradition and the stories that underpin it. Come for a peat adventure and leave with a song in your heart.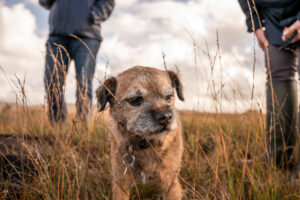 Location: Out on the Peat Moss between Bowmore and Port Ellen. Detailed directions will be sent to you upon purchase of ticket.
Note: Please wear walking shoes or boots and attire that you wouldn't mind getting a bit dirty! The terrain is flat, but may be slightly muddy in places.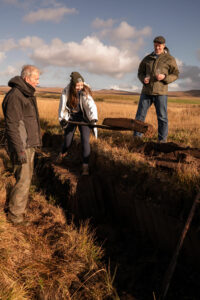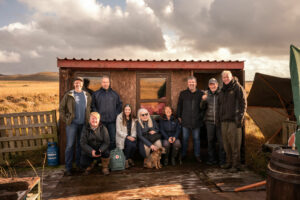 Date: Monday 30 May 2022                Time: 13.30
Location: Out on the Peat Moss. Between Bowmore and Port Ellen
Detailed directions will be send to you upon purchase of ticket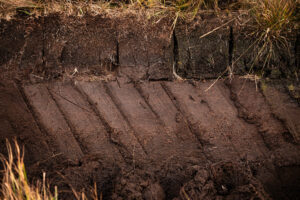 Peat Cutting Adventure includes
Peat Cutting
Singing Lessons! 
A few good drams.
Cheese and Oatcakes
Lots of fun and enjoyment
Cost is £38 Per Person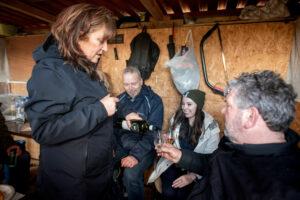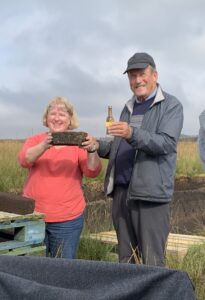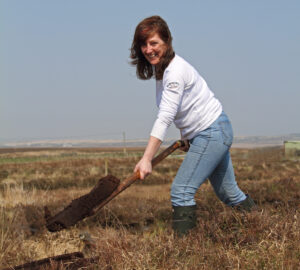 Join us and have a great time!