Bowmore Distillery Open Day ~ The day kicked off for Whisky for Girls with a food and whisky pairing masterclass with the great Rachel Barrie, Master Blender at Bowmore.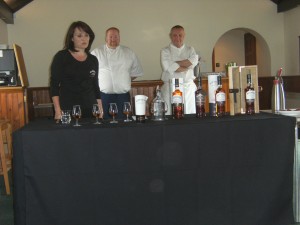 As I hadn't had time for breakfast, I was, as in the title of Robin Laing's song, having~ Whisky for Breakfast http://www.youtube.com/watch?v=ivIFaaDNux4&feature=colike
Rachel and Chefs, David from Rufflets Country House Hotel and Craig Millar @16 West End made us an amazing breakfast.
They took elements of the dram and took the same elements in food form ~ so we had :
Bowmore 12 years, a balanced dram with vanilla and fresh meaty saltiness, which hasan underlying layer of something crisscrossingwith toasteysmokey flavours
and we ate it with vanilla cream, fresh clamand crispy bacon.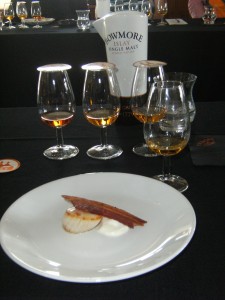 The food really was the manifestation of the dram! How clever I thought. I really like Heston Blumenthall and the way he desconstructs foodflavours thenremakes dishes. Rachel and the chefs did this dish and the whiskyin a very similar way. But the great thing was that, many times I have had clams and bacon and probably had a dram with it too ~ but I really tasted the same flavours and textures in the whisky and then in the food this time, because Rachel and the chefs made me aware of it.
So in the first instance of this class I learned to look at the world and experience food and whisky in a new way~ Not a bad start to anyones morning!
The class took us througha 15 yearold Bowmore, a17 year old Bowmore ~ the managers favourite, and a wonderful dram from 1985, natural cask strength at 52.3%, which was honey, rich and chocolatey witha smell of old wooden fence posts and some saltiness coming in. This is a sweet, honey like, complex, strong yet light airy open whisky. An absolute delight. This dram was paired with a chocolate sweetie and a sliver of vanilla biscuit sprinkled with freeze dried raspberries.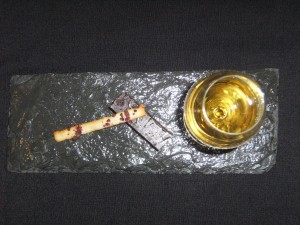 I can safely say that it was one of the best breakfasts I have ever had!
Next Whisky for Girls met Margaret and Islay Campbellin the reception centre. Islay used to be the Manager of Bowmore, so it was nice to see him and Margaret still supporting the distillery.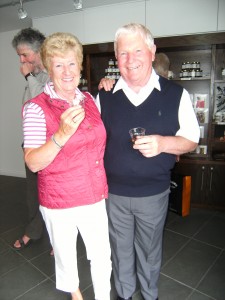 A wee while later I met up with Whisky Bard Robin Laing and he gave me a taste of his own bottling of pink whisky from somewhere else ~ and again I was draming out the back of a car!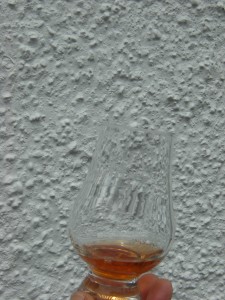 (This is the real festival, where the drams are unexpected and unusual and belong to an individual)~ experience it whereyou can…..
We met up with whisky dogs ~ Meg, Jess and Murdo. Whisky for Girls have seen them at nearly every open day this Feis, so we felt they deserved their picture in the paper ~ so to speak.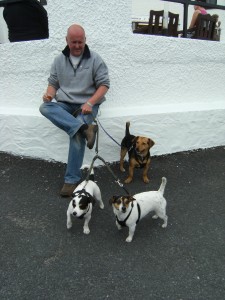 Next we wandered up to the lounge where everyone was tucking into whisky cocktails, we met the Chief of Staff ~ Ginger Willie himself,andfour guys who tell it like it is ……………………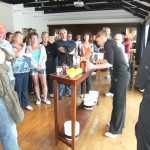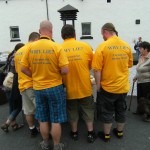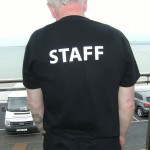 Later, I had a great conversation with @islaybart and his friend about draming not tasting. Sometimes people get so caught up in analysing the drams they forget to drink them!
That's where Whisky for Girls come in ………….. we have SLOW DRAM WHISKY TASTING which reminds people that their whisky is here to be drammed, not dissected!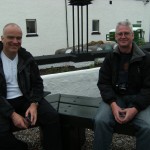 Bart and his friend ~ the whisky drammers.
Bowmore Distillery Open Day ~ elegant, quiet (because they sold all their bottles before the open day!) and still going on ~ Islay Pipe Band and Skerryvore are calling……………………………
Slainte!