SUNSHINE, DRAMS, SUNSHINE, DRAMS, MUSIC, SUNSHINE, WHISKY FOR GIRLS, SUNSHINE, MASTERCLASSES, SUNSHINE………….
SOME PHOTOSFOR YOU ~ FULL POST TOMORROW ~ PARTY IS STILL GOING……….!!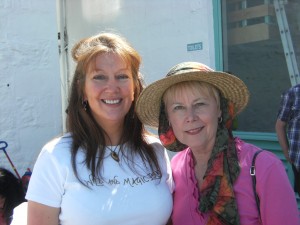 STARLA PHELPS ~ PORSCHE RACING CAR DRIVER& IT'S NOT JUST WHISKY FOR GIRLS CLUB MEMBER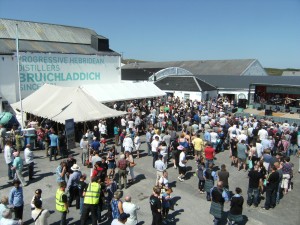 THE PROGRESSIVE HEBRIDEAN DISTILLERS PARTY………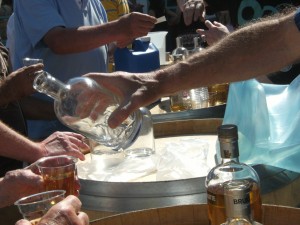 SAMPLING THE DRAMS………………………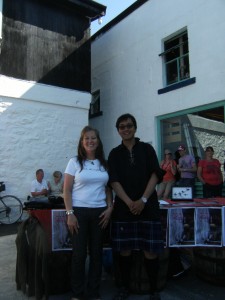 WHISKY FOR GIRLS HOST RACHEL MACNEILL WITH ZACH CHEN, ENGINEER FROM TAIWAN ~ HE IS AN ALCHEMIST WHO IS GOING TO CREATE EVEN MORE MAGICAL STILLS FOR THE INDUSTRY………..
Whisky for Girls sold our first ever handcrafted silver charm bracelet to the lovely Sonia from Wuerzburg in Germany.
Our bracelet is handmade by Heather Scott from Hide & Seek Art Glass and silversmith Charlotte Hannett, both from Islay.Orders to buy the braceletcan be placed by emailing [email protected]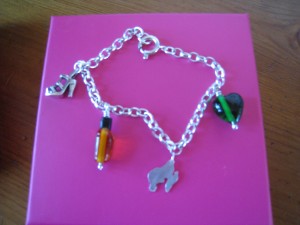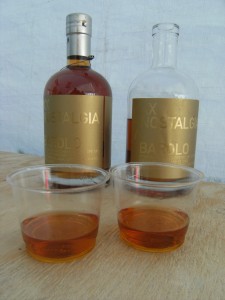 THE FESTIVAL DRAM FROM BRUICHLADDICH ~ 20year old heaven,
FAVOURITE DRAM OF THE DAY ~ PC10 IN JIM MCEWAN'S MASTERCLASS ~ new dram; salty not so peaty, warm, lingering…………. ……….. and like the party ~ LONGLASTING!
Ewald Baron from Munich on Bruichladdich open day; ' Gaelic sounds and whisky, it was a perfect day.'
THANKS TO HOST JIM MCEWAN & TEAM BRUICHLADDICH ~ IT WAS/IS A GREAT DAY…………..