WE HEART BUNNAHABHAIN ~ as they say on Twitter! What a FANTASTIC open day.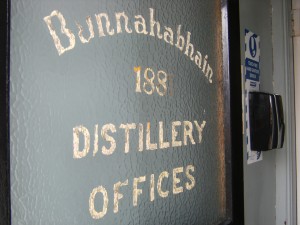 Beautiful drams ~ the Bunnahabhain is so smooth you drink it like Mother's milk. Manager Andrew Brown told Whisky for Girls that Bunnahabhain's 18-year-old is like fruitcake – rich and sweet and fruity. Whisky for Girls says; It slips over your tongue, you don't even think about adding water. The Bunnahabhain 12 years old is similarly smooth.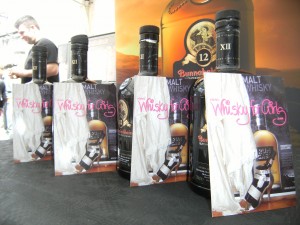 The hospitality was great. We were offered Raspberry fruit smoothies with a dash of 12-year-old. Such a healthy breakfast: fruit and whisky sets one up for the day!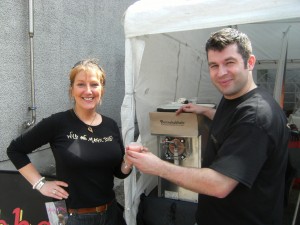 The band played mellow music, the sun shone and dozens of people signed up for Whisky for Girls IT'S NOT JUST WHISKY FOR GIRLS CLUB, a lovely lady from the USA ordered a Whisky for Girls Handmade Silver charm bracelet. We met cool Neil & Joel from http://caskstrength.blogspot.co.uk/~ cool and knowledgeable (you don't always find the two together, but you do with these guys!)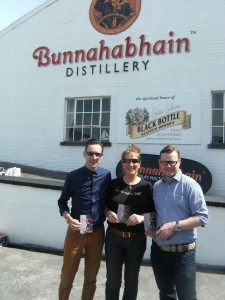 Then, Whisky for Girls got a 'whisky in the shoe' picture with Bunnahabhain ManagerAndrew with THE No.1BOTTLE of the Bunnahabhain Festival Bottling 2012.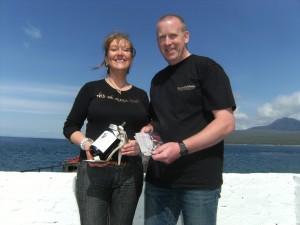 This dram has an Amontillado sherry finish which gives it a sweetness and a creamy mouthfeel. It is a single cask 54.3% 12 years old and there were 346 bottles. Manager Andrew said it can be reminiscent of American Cream Soda! It is young and rounded, with a long finish, slightly dry.
We met a bunch of Italian guys (one of whom is married to an Islay girl) who have their own whisky club ~ S.M.I.LE.~and come to Islay for the festival.
The guy in the yellow shirt did very well at the Bunnahabhain tossing the caber competition!
Whisky for Girls met Dominik from Germany, Marty from America, Sandy from Scotland and people from everywhere ~ this was a multicultural day. People lazed on the grass and watched the ferry sail down the sound, they ate clams cooked with whisky, they danced to the band, they bought cakes and prints of the distilleries and they drank drams and drank more drams!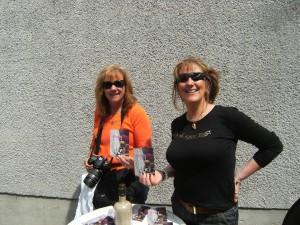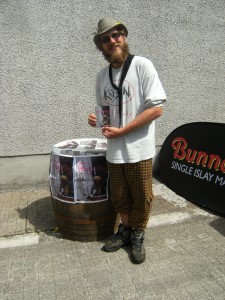 It was a great day ~ thanks to Bunnahabhain Manager Andrew and the team for their wonderful hospitality. Whisky for Girls and everyone will definitely return to Bunnahabhain next year!