Laphroaig Distillery Open Day ~just another day in paradise~ lots of interesting people and a great Festival bottling.


And that much sunshine we are getting fed up with it now (~ only joking; we LOVE it!)
Columns and columns of people wearing wellies streamed past the Whisky for Girls stand. They followed manager John Campbell as though he were the pied piper of Laphroaig!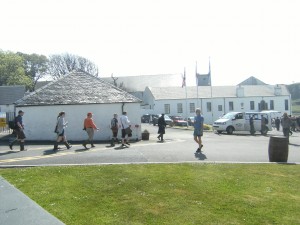 There were walks wearing the wellies, and hunt the bottle in the barley in bare feet…………..
There was a hansome barman and a dresser full of drink


We spotted a handy cupboard to look out for when visiting the peat shed…………….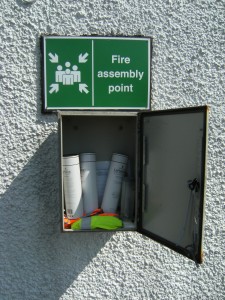 Pauline and tiny daughter with glamorous glasses, queued for the Cairdeas Origin 51.2%, the Laphroaig Festival bottle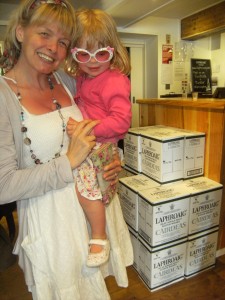 and we saw the best number plate for a Friends of Laphroaig member ~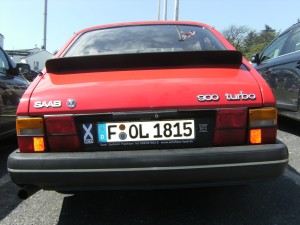 Whiskyfor Girls met a group of friends with their own private supply of drams in the back of their van……………
Tony and Loes from Amsterdam and Robert and Shona from Glasgow have know each other 'too long'! after having met at the festival years ago.Tony said I could have adram from his cask as long as I didn't tell anyone…….as it wasn't from Laphroaig and he didn't want John Campbell putting him out………!
I said of course I wouldn't (andI haven't told a soul, I have onlywritten about it on my online festival diary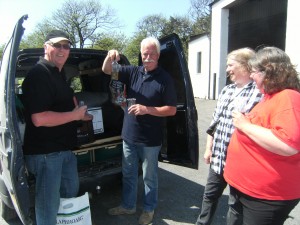 Theybuy all the festival bottlings, and Tony likes the Laphroaig Quarter Cask. Loes drinks whisky from Laphroaig when she is on Islay ~ but not when she is in Holland. Robert is a member of glasgow's Whisky club ~ 'a dram not a drama' and Shona doesn't get a dram at all, being the designated driver.
Islay artist Jane Taylor www.islaywhiskydistilleryprints.co.uk and Laphroaig Manager John Campbell pose in front of the Whisky for Girls stand, and the festival bottling tastes pale golden, thin, briney, sweet, peaty, with honey and power then oak and is yummy!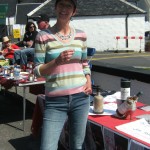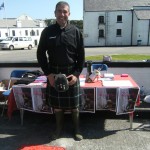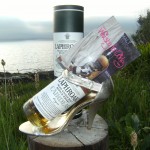 Itcould hardly have been a better day. Thanks to all at Laphroaig.