Whisky for Girls (& Guys!) island whisky tasting ~
On Saturday 26 & Sunday 27 October 2013, Graz city in Austria was host to the first Whisky & Rum Festival. Presented by Dr. Bottle Scaria with assistance from The Islay Whisky Chapter Austriaand various esteemed organisations.
Whisky for Girls (& Guys!) were invited to host a Whisky Tasting of Islay/island malts. Ostensibly the event was for women, but guys were welcome, too!
We had a selection of 6 drams ~
In order of tasting ~
KILCHOMAN 100 % ISLAY3 rd edition~ 50% abv. Vatting of 4 & 5 yo, 20-25 ppm, light, citrus with long peaty finish. Matured in Bourbon barrels. Fresh, young, strong, well balanced open dram. Peat finish carries the freshness.
Thanks to Arran Distillery for the ARRAN 10 yo~ 46% abv, unpeated, citrus notes ~ orange, cinnamon, peppery sparkle. The water for the distillery comes through red granite. This is a smooth, fluffy mouthfeel with light, sparkly kick. Nice orange oiliness and a dryness give this dram a balance with the lightness.
BUNNAHABHAIN 18 yo~ 46.3% abv, A voluptuous dram. Rich, silky, sweet honied dram. Sweetly nutty, slight salt tang, sherry notes of raisins, then toffee, a bit spicey and dryly woody with a sweet sherry finish. A lovely warm rolling dram.
ARBEG CORRYVRECKAN~ 57.1% abv. 50 ppm. Rich, heavy, peaty dram ~ tarry notes, bit of chocolate, creosote, brown sugar. Very fruity and rich with the power of the peat and the tar to balance it. Matured in American and French oak casks. Also, as this dram is cask strength the alcohol level is carried by the power of the flavours. A smokey length with salt and a hint of blueberries coming in from the side.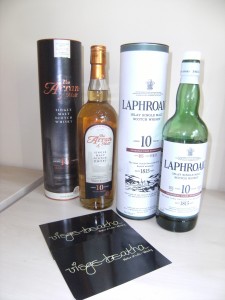 LAPHROAIG 10 yo CASK STRENGTH Batch 005~ Thanks to Laphroaig Distillery for giving us this dram to taste ~ 57.2% abv, this lovely, heavy, oily, peaty, fruity, sparkling dram carries the cask strength beautifully. Salty, seaweed with peat and rich warm fruity notes and flavours. A lovely rolling dram of Islay's shores. A long smokey rich finish.
BOWMORE DARKEST 15 yo~ 43% abv, the lowest alcohol by volume of the tasting ~ 12 years in Bourbon casks then 3 years in Oloroso sherry casks give this dram a sweet, raisins & chocolate taste balanced by the signature Bowmore smoke. This has a long finish and is a lighter but still robust dram. This is the material equivalent of patterned velvet to the brocade of the Laphroaig.
We tasted the drams without water, with water, and then, with chocolate ~ just delicious!
This is the first festival of it's kind held in Graz. And it was very successful ~ we were even on the Austrian TV News!
There were chocolate makers, kilt makers, whisky makers, cigar makers ~ I liked this festival as it was pro active ~ there were many people here who produce their own product, not just selling something that others had made. Also, there were singers, dancers and pipers ~
One of the pipers is a lady called Romana Brunner.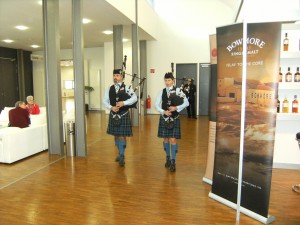 She is the Pipe Major of the Carinthian Pipes & Drums. Romana is a music teacher and in 2009 she travelled to Uist in the Western Isles, and lived there for a year, being taught to play the pipes by Iain McDonald. Iain McDonald and his brotherswere good friends of the late A.S. Macneill, who helped found the National Piping Centrein Glasgow, Scotland; ~ and A.S. Macneill is my uncle from Oransay ~ how cool is that?
Never mind seven degrees of separation between each of us in the world ~ in the Scottish/Piping/Whisky world it is reduced to TWO degrees of separation between us!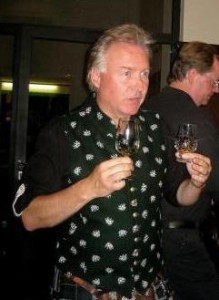 Thank you to Manfred Wizsy of Islay Whisky Chapterfor arranging for Whisky for Girls (& Guys!) to come to Austria. We had a wonderful time, met some wonderful people, heard some wonderful singing & music ~ and drank some wonderful whisky ~ we will return……
SLINTE!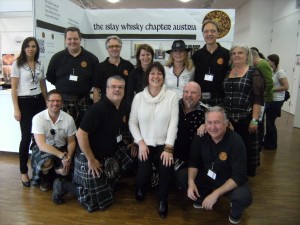 Whisky for Girls (& Guys!) and the Austrian Team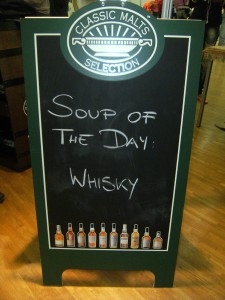 Best sign of the day!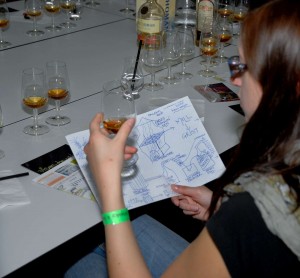 Hand drawn schematic of whisky making process for guests at Whisky for Girls (& Guys!) tasting…..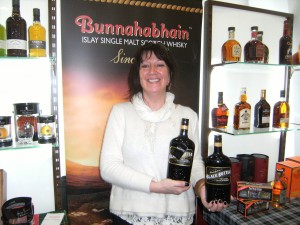 Supporting the new Black Bottle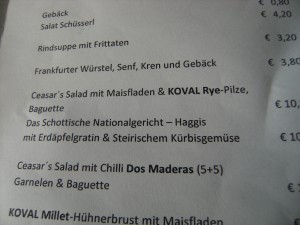 Haggis on the menu for the festival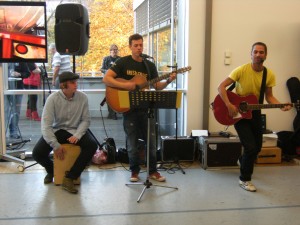 The Austrian band who sounded Celtic…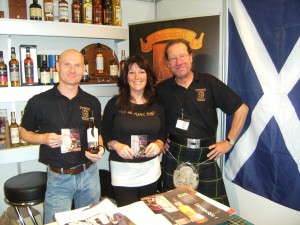 Myself and Mario from The Pot Still, and Alexander.