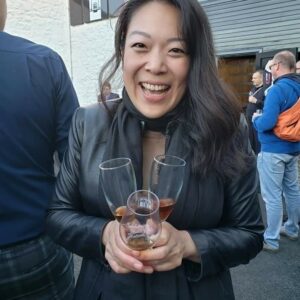 Name: Terri Lam. I am all labels (oenophilic, nerd, geek, aficionado) obsessed with whisky and whisky making.
Where are you: Living in the Pacific Northwest on the unceded traditional lands of the Coast Salish Nations, aka Vancouver, Canada.
What do you do: In relation to whisky and spirits: I am a Freelancing Whisky Brand Ambassador and Distiller. Also representing various local importers and distributors for wine, spirits and sake. A lover of bringing like-minded people together and co-founder of a local wine club of 700+ members. 
When did you get into whisky: Drinking whisky has been the celebratory choice of spirit in my family for generations; my first love was Blended Whiskies and Grain Whiskies. I am of Asian descent and we were served sweet fermented rice (known as jiu niang) after dinner or at bedtime so technically I've been drinking since I was a baby.
When did you take part in the Academy: IWA April 2023 Alumni – postponed from Oct 2020.
What's next: It's no secret that I'd love to be distilling, but these plans are currently on hold while I look at passion projects and alternative opportunities to participate in this industry. So many ideas percolating… something will come and you'll be the first to know!
Whiskies to watch in 2023:  While there are certain drivers that everyone loves (ie. Sherry Casks), there are some things I think are making a come-back and one that separates the good from the great are Bourbon Casks – you can't hide the quality of spirit in bourbon casks. So if you're making great spirits and not cutting corners in selecting casks, I think this combination of indicators will lead to discovering outstanding whiskies in the long-term game. Having said that, marketing plays a big role in influencing consumers. Whoever is the better storyteller will likely be the Scotch on Fire in the coming months. But personally, I'm very curious about the new make spirit Dunphail Distillery will be working on in the coming months and putting to sleep.
Favourite Dramming Song: As an individual who has sensory sensitivities, I actually don't listen to music when I'm drinking whisky. However, this question now inspires me to find music and see if it impacts my tasting notes. Time to create a new Spotify playlist!!