Tasting Notes
Bruichladdich Octomore 10.2

Dark auburn gold
Hugh ring of bubbles around edge when poured. Sweet tinkling on top then a heavier slap on moving in glass.
Thin band of gold.
Top Notes: honey, gorse, salt, delicious burnt sugars on top of crème caramel.
Hazel nuts, young gorse needles. Coffee, toffee, vanilla.
Bacon and Honey. Dusty old newspaper found in a farmyard loft. Honey comb.
Milk chocolate and new shoe leather.
Alcohol tingle inside the nose.
Custard and dusters. Baked eggs. Gorse and runny honey leading to mushrooms with a hint of steamed broccoli.
Baked custard, honey again and a sharp thin line of something tarry – like a smell of tar on the pilings under an old pier.
Sunshine, American cream soda.
Mouthfeel – Satin with the lovely drying tannins of peat and oak underneath.
Warm, fuzzy buzz in the mouth and warmth down into the chest.
Nose now more vegetal, with a delicious line of acrid peat.
Very easy drinking.
Top strata is honey with an underlayer of peat –  just like a Scottish landscape in summer with bees on the peat moss!
Delicious.
Slàinté mhath!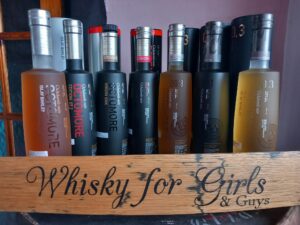 By Rachel MacNeill