What makes someone who has never been to Islay, far less to Bruichladdich, get themselves a Bruichladdich tattoo? Derek Mather of Artisan Restaurant in Wishaw is the very man to ask.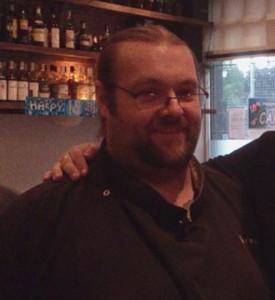 DEREK MATHER ~ whisky lover from Old Kilpatrick, living in Carstairs ~ but, not in the hospital facility (even though his wife, Fiona, says he should be!) has upwards of 1,700 good whiskies to offer diners at his restaurant.
Derek worked in numerous Scottish restaurants and was frustrated at the whisky being offered to people ~ generic brand names that didnt in any way showcase the range and depth of fantastic whisky produced in Scotland ~ or indeed in other countries. So, Derek, and his wife Fiona, decided to open Artisan Restaurant. A restaurant where people can sample the best of Scottish food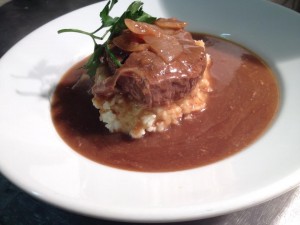 (~ beef from Octomore farm in Islay, Octomore is where the water comes from for Bruichladdich Distillery) ~ and drink it with the best of Scottish whisky ~ the sauce is made with Black Art!
Derek said, some of our whiskies are expensive, but most of them are very affordable. Well, I think they are, and I have been told by many people who go out drinking in Glasgow and Edinburgh that my whiskies are fantastic value as they have paid a lot more for them in the big cities.
If Bruichladdich are the progressive Hebridean Distillers ~ Derek is the progressive Lowland restuarateur! His connection with Bruichladdich goes even further than just having 300 of their bottles in his living collection ~ Derek sports a personally designed Bruichladdich tattoo.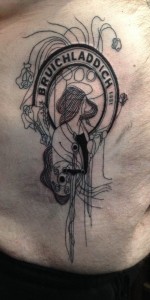 When the distillery staff came to Artisan and saw Dereks tattoo ~ and his Bruichladdich whisky collection, they dubbed him the Maddie Laddie Collector. I asked him what is so special for him about Bruichladdich. Derek said, Because they released so many quirky bottles when they reopened in 2001 and continued the trend throughout the next ten years, they werent afraid to try something different!
Derek told me his love for whisky stems for his love of all things Scottish ~ it helped that his father gave him a bottle of Glenfiddich for his 18th.
One of the things that draws Derek to whisky is the passion and dedication that goes into crafting a bottle ~ not to mention drinking one! He likes the way whisky is created differently depending on cask, length of maturation, region.
In Artisan, Derek offers guests great whiskies from around the globe, but his heart is with Scotch whisky ~ and who can blame him! He told me he drinks Islays on cold days and Speysides and Highlands on warmer days ~ needless to say he drinks many more Islays!
The best bottle Derek has in his collection is a secret dram ~ it is a very rare Bruichladdich ~ and he is not at liberty to tell exactly what
Derek wishes he still had a bottle of the Rare Malts ~ a Clynelish 24 yo ~ a stunning dram. The oldest dram he holds at present is a 46 yo Invergordon and the youngest they have are a couple of 3 year olds ~ one being Bruichladdich X4 +3, a very fresh tasting young dram.
The most popular with the customers are Highland and Speyside whiskies like Balvenie, Macallan and Glendronach. More women are coming into Artisan to dine and becoming adventurous when it comes to drinking whisky. People are asked what flavours they like, then, a whisky is sourced for them from the prestigious collection.
Sounds to me like an excellent night out ~