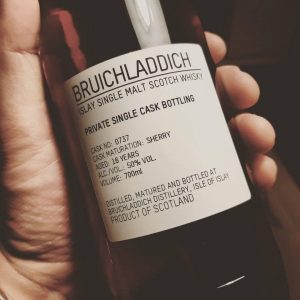 Sherry cask. Age 16 years. 50% abv. Colour: Tawney Brown. Red russet umber.
Thin tinkle into glass. Small bubbles quickly dispersed.
This whisky has a wonderful nose 
Raisins, sultanas, honey, cherries, hawthorn. A dry duster sweetness. Greengages and gooseberries. Melon, pomegranate. Polished mahogany wood. Smoked ham. Toffee, creamy vanilla. Red currants, strawberries. Crumbling blocks of feta cheese, rosemary, Christmas cake, toasted almonds. Toasted spun sugar. A peppery, pickle note. Dark chocolate, walnut cake.
American cream soda, tangerines. End notes – dry, flinty, chalky. Moist syrup sponge.
What a nose! The whole world is contained in this…
Palate: Packs a 50% abv punch. Strong buzzing tannins and alcohol feel on front gums.
A wide band of sensation down into the chest. Big creamy, slightly over powering mouthfeel.
2nd nose contains more green vegetal notes.
2nd palate; Liquid is fighting with itself. It attacks itself in your mouth!
It's like two people rolling around on the floor punching each other – it reminds me of the Elton John song – "rolling like thunder, under the covers"…..!
Oaked aftertaste. Very forward in the mouth. A very interestingly structured whisky.
Slàinté!
Thanks to my friend Gregor for sharing a dram with me.