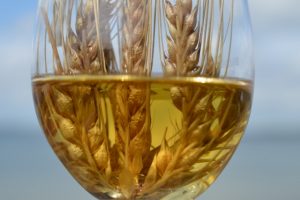 TERROIR : of the land
Anyone who thinks there is no such thing as terroir misses understanding themselves and our world. Barley, water, peat, yeast, copper, people ~all come from the land.
In making whisky ~ everything is provided by the earth, by nature herself ~ barley, earth to grow it in, people to sow it, tend and harvest it, water to soak it and let it germinate, yeast to react with the sweet barley water, wooden wash backs to ferment the wash in, copper stills to distil the wash and spirit in, peat to burn to toast the barley ~ all from Mother Nature.
Stone built warehouses to keep the drams in, wooden casks for maturing whisky made from oak trees from all over the world, glass made with sand from ground down stones and shells for the bottles, and paper made from trees for labels and packaging. The people required at every step of the way, their skills, their attitudes, their passions and compassions ~ all from Mother Nature.
The weather conditions and geology which influence flora and fauna, which in their balanced relationship with each other made a perfect location for people to farm there ~ eg Kilchoman, Lagavulin, Laphroaig.
Because they farmed there they grew barley. When they harvested they had grain for making flour, animal feed, to plant again the following year, and to make whisky. People chose land that was fit for purpose. Their lives grew out of what was there. They were shaped by that land, and in turn produced that which was shaped by the land and the people of that land engaging in an interactive, reciprocal relationship. Their society was formed by their habits in that land. Their interaction with that specific landscape and animals therein shaped how their language became, what food they ate, what they drank.
So, concisely; the geography, geology, flora and fauna created what would happen there; what settlements, what habits of human behaviour, what language, what skill sets, what creativity.
Next, the distilleries became bigger than the farms. There were piers where puffers brought coal for the fires to heat the stills, bringing casks to store whisky (in those days people made whisky from the outset) taking excess whisky away, bringing in extra barley; the moving and shaking of that place.
Each area created a different whisky as each area had different sets of characteristics ~ the characteristics were in the people, too; the habits they had in distilling, their traditions and customs of living, the specific skills they had, the shape of their buildings, where they were located in the landscape. The weather they received influenced what clothes they made, what food they ate, what they drank, when their streams went dry, where was best to store grain, the particular time things were done. All these particulars are shaped by the landscape in which they take place. And all these particulars allow the spirit of a landscape to produce something unique. The energies specific to a landscape produce things unique to that area. This is what is meant by terroir. In Gaelic, we call it
Anam an Fhearainn ~ Soul of the Land.
We believe Anam an Fhearainn matters
~ not just in whisky: it matters in EVERYTHING.
Pronounciation : Anam an yerr-ane ~Anam (as in Adam) ane (as in plane)