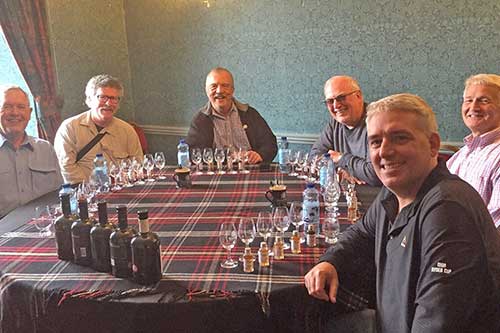 Sept 2019 Ken & Friends
Bespoke Spirit of Distilleries Tour
On behalf of each member of our group – again – a sincere THANK-You for the wonderful trip you arranged for us and the fabulous job of guiding us around your fabulous island!
We have all returned safely – with our exceptional prizes of Islay Whisky intact.
All the best – Ken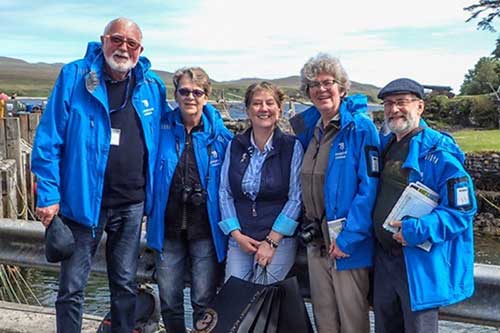 Aug 2019 Jon, Karen & Friends from Adventure Canada
Spirit of Flavour Sensory Experience
Karen and I strongly feel that the day we spent with you touring about Islay enjoying the landscape, the music, your company and of course the whisky and great food was a highlight of our entire trip. The opportunity to meet Smudger, Kevin and Ben and to experience turf cutting was over the top fantastic. An experience I will remember forever. I have since read descriptions of turf cutting but without having actually done it I don't think I would be able to picture it.
My best. Slainte! Jon.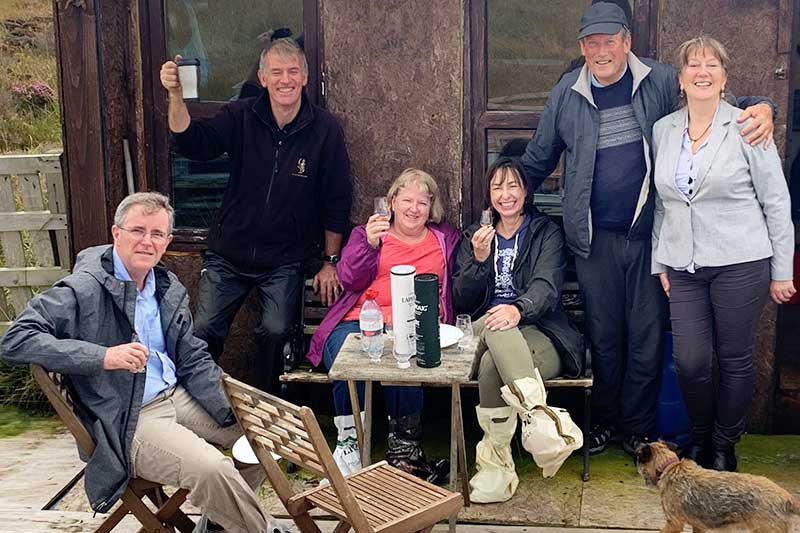 June 2018 Chris & Friends ~ Australia
Spirit of Islay Whisky
We absolutely loved our time with Wild and Magic Islay and highly recommend it for anyone wanting to tour the island, and in particular, its distilleries.

Rachel and the team are a blast, and organised a brilliant set of tours, tastings and excursions for us. And getting to experience Islay with true locals was a real privilege!
Chris & Team
March 2018 Mike & Emily
Magical Islay Wedding

This review is long overdue. The short version is that Rachel is so lovely and amazing to work with that we would not recommend looking any further, no matter what you need she can make it happen!! 

The longer version: We found Rachel when researching whisky tour possibilities. When we decided that we wanted to elope we weren't sure how things would turn out, coordinating from across the Atlantic. Things couldn't have gone better!! When we first reached out to Rachel she was prompt and pleasant to communicate with. She responded to all of our questions with thoughtful and helpful answers. At first she let us know that she wasn't sure about putting together a wedding but after we described what we were looking for she told us not to worry! We fell in love with her sense of connecting to the natural world and her seriousness about environmental responsibility. She put together a truly one of a kind itinerary for us that we will remember forever. She included locals at every step of the way and we seriously could not have been happier with how things turned out. She even kept it off of social media until afterwards which was no small matter 🙂 even behind the scenes, everything from the planning to finding time to talk on the phone to payment was easy and stress free. 

The wedding day was perfect, the details were all worked out with backup plans that we didn't need. The spot down the Oa where we had the ceremony was absolutely stunning! Everything about our blessing was so special and lovely. She made sure there were little things that were so special like having our wonderful piper Neil play a circle of sound around our little plateau. The flowers were mostly local and Anne was a perfect match for putting them together. The bouquet and buttonhole were absolutely stunning! Everything had a part of Islay in it and we couldn't have asked for better. Margaret Anne and Nikki were excellent helpers and Nikki was our impromptu makeup artist. Lorraine did a lovely job with the hair- it was beautiful and didn't blow around hardly at all! Rhianna was a fantastic photographer and Ben did a lovely job editing the photos. Some of the above will get their own reviews but most of them do these things as a side job and it couldn't have been more perfect! In addition to the wedding, Rachel helped arrange travel from Glasgow to Islay with a very nice gentleman (David?). He was the consummate professional driver with a lot to say about many different topics. Rachel picked us up from the ferry and poured us our first Islay dram on Islay soil. 

She put together an "exploring day" for the day after the ceremony where we went around the island and saw almost everything that didn't revolve around whisky. We went bird watching at Gruinart and had oysters and a picnic at Machir Bay. We saw some very stubborn cows and local art. We had a very special stop at the Altoon sun circle since standing stones were high on our list of things to see. All along the way we had lovely conversations about everything local and Rachel's experiences. She is the perfect hostess! 

Rachel also out together a three day whirlwind whisky tour where we saw every distillery plus Jura! When we didn't have Rachel as a driver we had Charlie who was so much fun to be around. Rachel seemed to cultivate the perfect mix of distilleries and types of tours to form the perfect look at the different distilleries. Some places had a full tour, some a warehouse tasting (the best way to taste whisky in our humble opinions), and even a semi-private tabletop tasting at Ardbeg over lunch! Everywhere we went, Rachel knew each person we were meeting so we were always warmly welcomed and well taken care of. This wasn't difficult since it seems that everyone on Islay are good, kind people who want to see you enjoy their lovely island.

We were sad to leave after our week in paradise but we can't wait to go back! We would enthusiastically and wholeheartedly recommend Rachel to anyone who wants to visit Islay for any reason!
September 2019 Jeffrey & Linda
DeLuxe Spirit of Islay Whisky Tour
We flew back home yesterday, but I wanted to tell you how much we enjoyed our tour, and the chance to meet you.  We had a wonderful time, and Linda commented that she enjoyed herself so much more than she expected.  Whisky is my passion, and she indulges me by going to distilleries.  So, the fact that the tour appealed to someone other than a whisky-geek, speaks to how well it is run.
Thank you again. Jeffrey
September 2019 John, Fran & Friends
Bespoke Spirit of Islay Flavours
Rachel took four of us on a full day tour of the whisky, culture, and food of Islay. She is super friendly and knowledgeable about all the above. We especially enjoyed the peat cutting competition and the food and whisky pairings. At the end of the day a small beach bonfire and some well aged, top notch whisky completed a great day.
February 2018 Oren & Erica
Bespoke Spirit of Islay Tour
I've wanted to visit Islay for a long time. After searching for whisky tour companies that would accommodate off-season tours we decided to go with Wild and Magic Islay for a customized tour. Rachel put together a wonderful 3-day itinerary that showed us not only all the whisky distilleries, but the beautiful historical landmarks and rich culture Islay has to offer. She took care of us the entire trip and really made our experience here one that we'll never forget. Many thanks! 
Oren and Erica