Ardbeg Galileo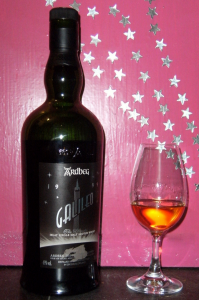 Distilled in 1999 ~ 49% volume.
A golden honey colour. Not very viscous. Fast, thin legs.
First nose ~ fruity, vanilla, oaky, salty. Rich tar, warm honey, reminds me of bees.
Quite a voluptuous dram. Dark woody notes, with cloves. ~ bananas, salty and tarry.
Taste ~ something light just waved in ~ baked apples, hayloft and smoke. Woody notes in middle. Smokey, a hint of polish and dusters, kind of custard.
Layers are fruity on top with woody and smokey in the middle layer.
Velvet mouthfeel, very smooth ~ sharp burn under tip of tongue,
Light smoke in length. You think there is nothing then it appears 
2ndnose ~ lemony, fresher, hint of fresh coffee! Sharp custard, bluebells?
Oak and acrid burn from the smoke and peat. Quite harsh at end of 2ndmouthful.
This is a manufactured dram, honey & smokey, thin and smooth. It is addictive, in the way that Pringles are ~
Its an Ardbeg Lagavulin!