I love Ardnamurchan. Walking up from the pier at Kilchoan a man offered me a lift.
A perfect stranger, named John Chapple, took me to the most Western point of mainland Scotland, to see the 'Egyptian Light', the Ardnmurchan Lighthouse. The picture on the left shows the old machinery for working the light and the foghorn.
The Ardnamurchan Peninsula feels open and free, with rolling, tightly packed small hills, and the beautiful golden sands of Sanna Bay. The sky is big and far above.
The colour is pale blue and you think you can see forever. Ribboning road floats over heather and stone, and it seems much further away to Fort William than geographically it is.
In Gaelic, Ard na murchan means High Point of the Great Sea. Most Gaelic place names describe landforms in context.

Ardnamurchan Distillery is at Glenbeg, on the estate of Donald Huston. Tucked below an encircling hill, it faces the sea. It is powered by a wood chip boiler, the timber being felled from trees on the estate.
Their water source travels through peat to get to the distillery, they use the same water when filling the casks to 63.5% abv, as they do when making spirit.
They intend to implement their own floor maltings, they are organising the kiln just now ~ March 2015. They have a small copper-topped mash tun and a mixture of wooden & stainless steel washbacks. The wort is cooled to 18* for wooden washbacks & 21* for stainless steel.
The wooden washbacks are made from Cognac Oak.
1 mash goes into 1 washback. It is a 56-hour fermentation. 10,000 ltrs into the wash still and 6,000 low wines into spirit still.
About 15 mins foreshots ~ which is quick, coming in at roughly 72*. The spirit run is about 2 hours. They haven't made any peated yet.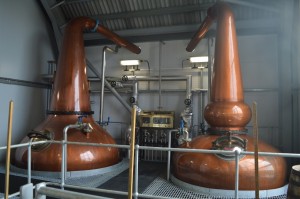 Their new make is lovely. I tried it at an average of 69.4%. It was very round, rolling, heathery, and thick with lots of layers. Oatmeal flavours, silky & dry.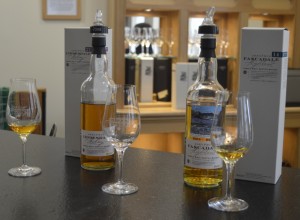 The new make is different to that which I am familiar with. I think Adelphi designed the distillery to create a different-tasting new make, so they can widen the flavour profiles of their drams for an expanding market requirement ~ Yet, in doing so they have created something which tastes distinctly of Ardnamurchan!
A tune to listen to whilst sipping your dram is Skyhook: At the Stringsmiths's Forge ~ Bothy Reels, including Ardnamurchan Reel
Slainte!