#BIGSCOTLANDWHISKYADVENTURE ~OBAN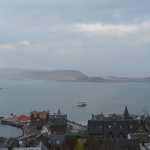 OBAN: gateway to the Isles, international harbour, wild time fishing village, and, home of Oban single malt whisky distillery.
As the waterways of the world ferried people, MUSIC from OBAN, and ideas from the West coast of Scotland to the Mediterranean and beyond, this town traded whisky, fish, slate and wool.
Oban is approximately one hundred miles North of Glasgow, and many of the languages of the planet are heard here in the summer months. The land is washed by a misty, maritime rain, and a lightly peated, slightly salty whisky, with honey and citrus notes is crafted.
The distillery claims to be one of the oldest in Scotland, being established in 1794. It is also one of the smallest, having only two stills, yet, produces around one million bottles of whisky a year.
The people of Oban are friendly, hardworking and know how to ceilidh. Oban has a defined sense of 'place', and warmly welcomes all comers. The town encircles the bay, and standing proudly overlooking the town, the bay, and the island of Kerrera, MacCaig's Tower echoes this curve.
Oban whisky embodies the spirit of Oban. It is of the land, and of the sea; strong, but not ostentatious, and has a long, sweet finish. Evoking the past with citrus notes, it reminds us that eating oranges was once an exotic treat ~ and thanks to the tides of the Western Seaboards, the people of Oban, Scotland were likely to have tasted oranges long before the people of Buckinghamshire, England!