Bumblebees by the sea from Scotch Malt Whisky Society. Distilled Nov 28th 1984. 29 YO 57.6% abv (alcohol by volume) 1/548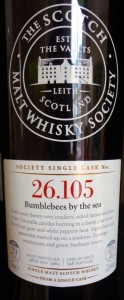 Wednesday 25th Novemeber 2015. Pitch dark, squalls earlier in the day, not too cold outside. Fire on.
Lots of bubbles, tinkles and slaps in the glass. This dram is fizzing!
So light. A wee raft of bubbles in the centre of the dram when you pour. Pale tinkley, gold. More to green than red on the yellow spectrum.
Warm sunshine, pink caramel waffers. A pale blue, stone chip road & a tennis court. Silvery, salty, chewy & twisty. So, sweet and warm. Hot bread ~ the middle of the bread when you break it open fresh from the oven.
Something cuts in from the left, a curved metal pastry cutter.
Sour, off, doughy ~ sweet and light underneath. Soft paint. Dark wet oak buzzing in the nose. Wet dark wood.
Polish, custard, green smell. Wet hair. Closed in sweet nail varnish giving onto nip of dark chocolate.
Figs, sweet, sweet, pipe smoke ~ more like the scent from a hookah cafe in Tel Aviv. Waxy, a field of potatoes. A potato barn when some of the potatoes are going black on an old wooden floor. Bananas and butter.
Little pink flowers, sea pinks. Tingly, zesty. Dry-open-light. A symphony, a flutter of doves wings rising up in an abandoned church.
Open in the middle of the dram. Light and sweet at the back of the throat. Rolling pins and dusters. Like the cupboard under the stairs where the sweeping brush and dusters and vacuum cleaner are kept.
Old beehive, dark wax, slightly burnt. Pineapple, floor polish, old yellow dusters with red stitching around their edges. Waxy-coloured crayons.
A rolling fizz in the back of the mouth. Remembered sweets from childhood exploding on your tongue. Coats the front of the mouth, and the teeth – drying on the gums.
2nd mouthful ~ Custard and biscuits. Open sea salty aspect layered behind. Then a crisscross of waffles. A reminder of redcurrants. Buzzy on the nose. Perfume on the inside of a lady's outstretched wrist, a silver watch strap on white skin.
Old cardboard, damp boxes on the sun porch of Oransay House. Waxy custard. Dusty, sleeping old clocks.
Honey and marmalade, drying at the front of the mouth. Lightly honied at the back of the mouth.
***********************

Bloomin' Lovely Dram.
(taste while smoking…. hints of melon and pineapple!)
Slainte!