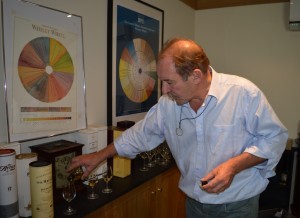 Charles MacLean; celebrated raconteur, writer and businessman; lover of whisky, sailing, shooting and cooking invited me to his home outside Edinburgh. Converted farm buildings house his office, come writing den, come library, come whisky emporium.
After reading Whisky: A Liquid History, I knew I would enjoy our meeting. One finds an author in their work.
Whilst containing all the facts, some (whisky) books can be dry and boring, this book is neither. It has character and is interesting. It has depth, has been researched, and encompasses a world and its ways. It reveals a political history of whisky and Scotland and our present position as a milk cow for foreign establishments.
So, what kind of man writes whisky books like this…..? A man who understands the construction of a dram, a man who is practical and knowledgeable with a view of the bigger picture. A clever person who trained as a lawyer, a charming, humorous man who can get his head down and complete a body of work. A man who appreciates drink!
I asked Charles what drams he would take to his deserted island. Hedging his bets ~ what he picks could be used as endorsement ~ he tells me at the moment he drinks Johnnie Walker Black Label – if someone else is paying!, and his home fire tipple is 1993 Adelphi. He likes a robust whisky, heavier style, a more traditional dram ~ 'don't we all?', I say…
I intended to interview Charles, but we end up just blethering ~ we talk about distilleries with worm tubs; Lochnagar, Talisker, and Old Pulteney. Worm tubs offer quicker condensing than modern condensers. The vapour has less copper contact ~ so, if you wish to have more copper contact you warm the water in the worm tubs and the vapour trails into the coils further before condensing, thus purifying and lightening the spirit slightly. It's minute details like this that allow each distillery to produce such different spirits, and details like this which are endlessly fascinating.
He says that distilling is all to do with the impurities you leave in. Charging the stills low and running slowly allows lots of copper contact. If your stills are small you will create a different spirit structure than if you have small stills and charge them high – never mind talking about tall stills and shell and tube condensers ~ it's all Dram Architecture and I love it!
We talk about people he admires; Sheila Burtles and Dr Jim Swan of The Scotch Whisky Research Institute and developers of Whisky Flavour wheel concept, Dr Nick Morgan of Diageo fame, and Charlie's friend, the writer, Alexander McCall Smith.
I ask, what makes him proud, 'My boys, I am proud of my three boys', no mention is made of his many whisky-related accolades.
Charlie's friends call in, we talk about peoples' blood types influencing whisky flavour preferences. I say our landscape influences our bodily make-up, so, what grows in a location will marry well with the physiology of people from there. We think it would be interesting to work back from the flavour preferences of areas of the world eg Dufftown Singleton for Europe, the Glen Ord one for South East Asia, Glen Dullan for USA markets, and finding the predominant blood types in these areas begin to formulate a theory.
Then, we decide it is getting far too close to whisky eugenics and decide to go down to the library for a dram.
I ask Charlie to tell me a secret. He says 'not many people know this…..' then stops. I wait expectantly…… it turns out that the 'secret' is this opening gambit. The secret is to preface my obscure facts with this phrase…
We drink. We discuss perfumery and its relation to whisky. Charlie recommends books for me. I lift a bottle of Port Ellen and say, 'I will need to photograph this and they will all be jealous….' ~ 'never mind a photograph', he says ~ 'have a drink!' Slainte! It is a lovely dram, many things happening in harmony. Each entity of flavour is a note played by different instruments in a symphony.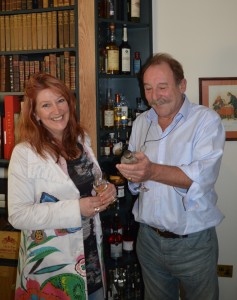 I ask Charlie what advice he has for Whisky for Girls. 'Practice, practice. Drink a lot', he tells me. This is one piece of advice I will find easy to act upon.
Charlie MacLean ~ clever, astute, good craic and good whisky drinker.
I hope we meet again soon.
Slainte!