Meet the women who are waking up Bunnahabhain Distillery, offering hospitality, education and enthusiasm to all who visit.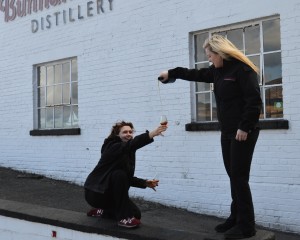 (HB) Hester Boyce ~ Tour Guide/Brand Home Ambassador
(KR) Kellie Rountree ~ Tour Guide/Brand Home Ambassador
What do you think about women in whisky?
HB – It's brilliant there are so many women in whisky and numbers are growing
KR-More women are getting into whisky in the last couple of years, women of all ages are drinking whisky… the women are taking over!
Where do you see yourself going in the industry?
HB – Production.
KR- I hope to continue with what I'm doing at the moment and see where it goes.
Who inspires you?
HB – In the 1920's the manager of St. Austell's Brewery in Cornwall was called Hester, she was referred to as a witch…. very inspirational..!
What is your favourite thing about whisky?
HB- The science behind it.
KR- There are so many different styles and so many different things to choose. Also, there is always something new.
What is your favourite place in the distillery?
HB- The filling store & warehouses. I like it all. I like the mechanics of it. I like banging on the stills! I think someone could make music from it. Also, it's always good craic in the filling store!
KR- The washbacks. I like to see the fermentation. What is actually happening is all-natural, and people don't really understand it.
What do you look for in a whisky?
HB- Texture, apart from flavour. I tend to prefer a single cask.
KR- That WOW! factor. Something interesting.
Bourbon or Sherry?
HB – Both
KR- Sherry
Peat or No?
HB- Both! All the time…
KR- No.
Where is your ideal place to drink a dram?
HB- With good company having a good whisky discussion.
KR- Enjoying a good dram with pals.
Whisky & ?
HB – Beer (Boilermaker)
KR – Chocolate.
What's the first thing you do in the morning?
HB – Press the snooze button…
KR – Put my music on
When did you first try whisky?
HB -Not until I worked in the Whisky Exchange. I worked in craft beer, first.
KR – Quite young! My family were all involved in whisky.. Lagavulin, the maltings..so…
Advice for all whisky women out there?
HB – You are no different to the men in relation to whisky.
KR – There is a dram out there for everyone, keep looking. You will find a dram you love!
How can the industry improve and become more female-inclusive?
HB- Offer time and encourage perseverance. Allow women to realise they tend to be better at nosing and tasting.
KR – THINK of women as equal.
Most important thing about whisky?
HB – What you get out of it.
KR – ENJOYING a good Islay whisky.
****************************
Thank you for a fun, informative visit.
The Bunnahabhain Renaissance Girls ~ Hester & Kellie.