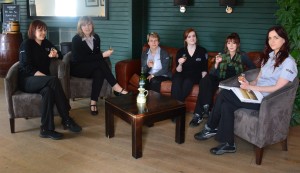 Today, Team Laphroaig are: (L to R), (DMK) Danielle McKerrell – VC Assistant/Administrator, (VS) Vicky Stevens – VC Manager, (CM) Caroline Morris – Distillery Administrator, (SJ) Sherylyn Jackson – VC Assistant, (CMG) Christianne MacGregor – VC Assistant, (EB) Emma Boyle – Assistant VC Manager
What do you think about women in whisky?
EB – There are many more women compared to when I started 11 years ago. The women used to be passive and come along with someone, now THEY are drinking.
DMK- Lots more women working in distilleries.
CM – Yes, when I started in 1990 there was just me!
CMG – Women are seen in the VC when the visitors come in. Women are being reflected back to themselves. Whisky is not seen as a man's drink, now.
Who inspires you?
VS – My inspiration comes from a wide range of people.
DMK – Yes, like Bessie!
SJ – My Gran inspires me. She encouraged George (Campbell, Balvenie) & me to stick in!
CMG – My family. My family who have worked in this industry.
CM -Yes, and the community ties here.
DMK – My Granny, May McKerrell, the last Excise person.
What is your favourite thing about whisky?
VS – It brings people together.
CM – It's a talking point where ever you are in the world, people say "oh, you're from ISLAY?"
DMK- It creates friendship, chatting to each other on tour makes friendship.
What is your favourite place in the distillery?
VS- Warehouse 1.
CM- Top of the steps (going into reception) looking out into the bay.
EB- The viewing area, where you can see the sign.
CMG- In the still house when the foreshots are coming through, it smells like banana, and it's cold outside. It's so cosy in winter!
What is your favourite thing about the process?
VS- The traditional way we do maltings, how it starts, nice to go into and smell the barley as it's germinating.
CMG- Maturation, the warehouse. All the smells, all casks starting as the same, then, will the spirit come out happy or grumpy?!
CM- When it is only you in the warehouse.
VS- Yes, you can be the first person to drink from a cask! There is "a feeling" in the warehouse.. the dust… it's so special.
What do you look for in a whisky?
EB- Smokey, bourbon, vanilla flavours
CM- More maturation! (expensive taste…!)
VS- A dry whisky, a depth of flavour
CMG- Strong, powerful, angry whisky!
Where is your ideal place to drink whisky?
EB- In the bath! Freezing cold outside, jump in, and all the samples to try in a row along the side
CM- At Christmas time, around the Christmas tree.
DMK- In the warehouse.
VS- Outside, take a dram at the watersource.
SJ -Around your kitchen table.
What's the most important thing about whisky?
CM – How it's made and who makes it.
EB & DMK – The people
CM- The history.
VS- The heritage. Scotland is so proud.
Whisky and ……..?
CM – ….People
EB – ….Happiness
CMG – …..Silence
DMK – …..Laughter
VS – …..Warmth
SJ – …..Appreciation.
Advice for all women out there?
CMG -You will find one (a whisky) eventually! – Keep practising.
EB – It does NOT put hairs on your chest!!
VS – Enjoy it, don't worry about it.
Where to next?
CM – To infinity and beyond! The world is your oyster.
VS – A knitting show on Friday…
EM – My Birthday party on Saturday…
What do you say?
Stick together.
Appreciate.
Be positive.
SJ – "Stand by your sisters from other misters!"
Thanks to the Powerful Laphroaig Ladies for your invigorating, inspirational interview.