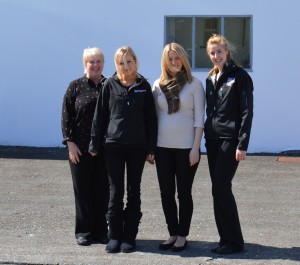 There are TWENTY-SEVEN Lassies working as managers, brand home ambassadors, and administrators, in marketing, & in various production areas at Bruichladdich Distillery.
In the mi(d)st of all their hospitality (hic!….)I got three to sit still long enough to interview.
(MMG) Mary McGregor ~ Laddie Shop Manager
(AMG) Ashely MacGregor ~ Shop Assistant & Tour Guide
(JC) Julie Chalmers ~ Executive PA to CEO & Customer Service
Heather Leslie ~ Seasonal Tour Guide ~ in the picture.
What's your favourite thing about your job?
MMG – Meeting people from all over the world
AMG – Telling people about the whisky & its history
JC – This is an exciting, fun, innovative place and company to work with.
What's your favourite place in the distillery?
AMG – Warehouse 14. The biggest library of casks. 11 stories high! The Cathedral!
JC – Always love the still house.
MMG – Looking out a window and seeing dolphins, or an otter appearing. The best views…
What's the first thing you do when you come in in the morning?
MMG- Lights on. Put the kettle on.
AMG – Put the computer on, check the shelves and make sure there is plenty of whisky for guests.
JC – Have a bowl of Cheerios!!
MMG & AMG – Yes, 'cos she has to have her breakfast for the bump!
What is your favourite thing about whisky?
AMG – All the different colours of the whisky. Sometimes you line the drams up on the counter and they look like little traffic lights!
MMG – All the different things we do here; are innovative.
JC – I think it's amazing that so much whisky comes from somewhere so small. We are a small speck and what we do affects the world.
MMG – Yes, we are a proud nation.
Peated or Not?
MMG – Not!
AMG – Both.
JC – Gin……!
The ideal place to drink a dram?
AMG – Sitting on the beach.
JC – It sounds strange… but I appreciate whisky at a funeral. It's a comfort. Like a hug when you need it.
MMG – Anywhere with friends.
What do you look for in a dram?
MMG – Smooth. Like honey. From the day we are born, it's the milk and honey – we are a land of milk and honey!
AMG – Sweet with natural oils. A good mouthfeel.
What advice do you have for all whisky women?
MMG – Don't be at all scared of the old myth that whisky was seen as a male environment.
JC – Don't be afraid to say what you are getting when you nose and taste.
AMG – Yes, pregnant women are good at nosing… it's the hormones!
How has the industry changed since you started?
MMG – I started in 2003 and it is SO much busier. Also, more innovative ideas.
JC- I started in 2009, it's who we are seeing here now. People from universities, people like me. A diverse range of personalities. A far wider audience than before.
MMG – Yes, also, it is much easier to travel here.
What can the industry do to bring more women to whisky?
JC – Bruichladdich are doing it.. women are drawn to the aqua colour! Whisky is a lot more interesting. Keep it stylish.
MMG – People are attracted by the image. It's much sexier! The whisky is the same, but the combination of the two things works well.
AMG – Clothing. Fashion. Opening up to a younger generation. Engaging through social media.
If you owned Bruichladdich for the day, what would you do?
MMG – Keep walking around the distillery. Speak to everyone working. I don't always get a chance to do that.
JC – Organise myself a Margaret Shaw Lunch & have nice coffee!
AMG – Make my own special whisky. A Classic LASSIE ~ a Port Cask.
What was your last dram?
MMG – 27 YO Bruichladdich 53.3%
AMG – Black Art IV 23 YO
JC – Can't remember… it's so long since I had one!
Where to next?
AMG – I hope I can grow with the industry. Be part of it all. I feel proud to work here.
MMG – A wedding in Cyprus!
JC – Maternity Leave!
What do you say?
AMG – Would you like a taste of whisky?
JC – How can we help you today?
MMG – Chi sinn thu a'rithis ~ We'll see you again.
Whisky & ……….?
JC – Whisky & Girls!
AMG – Whisky & Warmth.
MMG – Whisky & Wild, wild women!!
******************************
Thank you to the wonderful, funny, warm, hospitable Bruichladdich Lassies.
Chi sinn sibh a'rithist!