WHISKY FOR GIRLS ~ DRAMING FOR THE DISCERNING
Whisky for Girls enjoyed our time at the London Whisky Fest. We met lots of great people and drank lots of great drams.
I was on a Women & Whiskypanel with thewide eyed expert from Jameson, Dierdra McBeth, the power keg Helen Stewart from Scotch Malt Whisky Society and the workshopwas hosted by the elegantAlwynne Gwilt from Miss Whisky.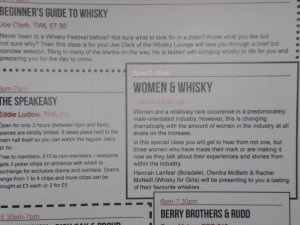 Before the panel began I wandered around the hall speaking with some of the women who had come along to the festival itself.
Whisky for Girlswanted to know more about the London ladies whisky demographic!
First off I met with Melanie and Mona, both from London.
Mona is on the left.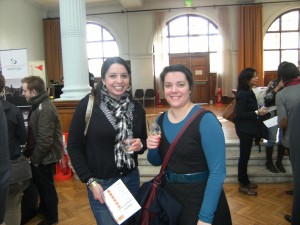 I asked them if they had tried whisky before.
~ Yes, both were whisky drinkers. Melanie had been introduced to whisky by her father and Mona was introduced by her friends – namely Melanie! Mona has been drinking whisky for about 3/4 years. She likes a Jameson with ginger ale, or ice and water. Melanie has been drinking whisky for ages and likes Chivas Regal for everyday and Laphroaig for special occasions!
How impressive that the first women I spoke with were soknowledgeable about, and drinkers of, the uisge beatha!
Next off I spotted a glamorous group of four friends in the corner. They were like the girls from Sex and the City!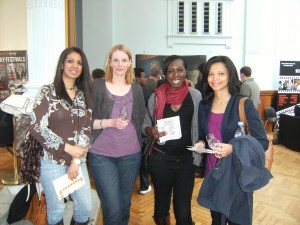 From the left the girls are ~ Ameera, Melanie, Mary Ann and Christolene. They were mostly beginners, but Melanie has someexperience of whisky because her Dad drinks it ( there is a theme here somewhere….)
For Mary Ann it was her first experience and Christolene described herself as a novice. They had come along as the festival had been on a special deal offer and they thought it would be a good day out, something new to try.
I told them I was on the Women and Whisky panelrunning later in the day,and that I had a lovely bottle of deep rose coloured whisky called Black Art with me ~ and lo and behold Ameera and Melanie turned up at the workshop to try it! It was lovely to see them. Also, the lovelypartner of the London Distillery Co. turned up. Thanks girls, I hope you enjoyed the drams we showcased (which were Redbreast from Jameson, Black Art from Bruichladdich and Audrey Hepburn in a ball gown from the Scotch Malt Whisky Society)
Next alongI meta wonderfully unusuallady called Kate Dicey. SHE had dragged her partner/husband Alan to the event ~not that he was complaining!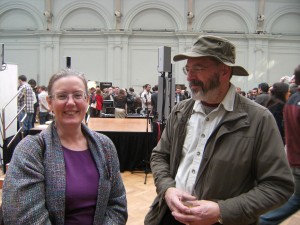 Kate Dicey lives in Kent but has Scottish blood. She is from a Scottish family.
She has been drinking whisky for forty years ~ an inspiration to us all!! She drinks whisky at Home and away, prefers the grain over the grape and her favourite dram is a Caol Ila cask strength 25 years.
And she runs a wonderful costume making business for amazing hats, bridal wear, historical & fantasy clothing, and it's called Jolly Dicey.
Here is the link www.jollydicey.co.uk
The business tagline is Costumiers to the Discerning ~
I've decided to paraphrase it, and call Whisky for Girls ~ Draming for the Discerning!
Slainte to all the amazing ladies who turned up for the event. I wish I had time to have spokenwith everyone ~ but I think time in London goes faster than time in Islay.
Never mind, we will see you at the next whisky festival ~ where ever it is.
After all it's WHISKY FOR GIRLS ~ DRAMING FOR THE DISCERNING!!!