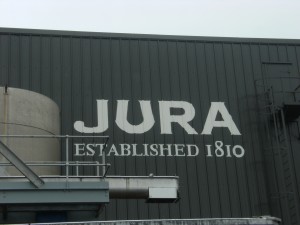 First off Whisky for Girls headed to Kilchoman Distillery. It must have been a bit early for me 'cos when we arrived and I saw all the people queuing up, I said to my friend, Ewald, 'what are they queuing for………?'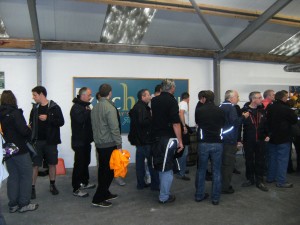 We were queuing for our festival bottle from Kilchoman ~ and it was worth the wait.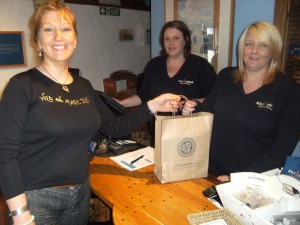 Anthony Wills and staff were busy cooking up welcome bacon rolls, the girls in the cafe had the coffee on the go, and 'Deoch and Dorus' were tuning up in the malt barn.
In the queue, we met the couple who own the FoL car number plate that I photographed at Laphroaig ~ Sabine and Rainer. They are from Frankfurt and have been coming to Islay since 2007. Every year they stay a little longer, this time they are here for 3 weeks. In a couple of years, I think they will end up just staying here…….!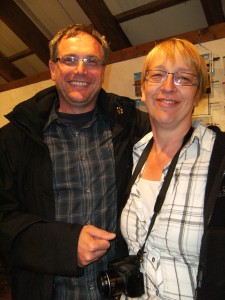 The first guy in the door to buy the bottle was Andreas Hofmann who owns 'Scotland's Glory' whisky shop in Wurzburg. He bought the first bottle of Kilchoman last year, too.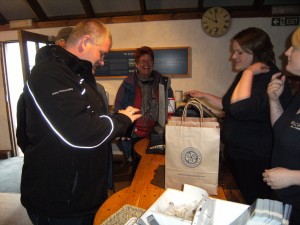 We got a brilliant shot of the Whisky for Girls shoe with the Kilchoman Festival Bottle…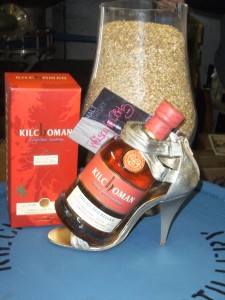 This is a good dram with a short finish, not that smooth yet, but it is only young. I like the Kilchoman Inaugural 100% Islay ~ my friend says I am biased due to the name! Maybe, but I support the endeavor to be 100% Islay. Then, sadly we had to leave and head to the Isle of Jura to sample the delights in store for us there.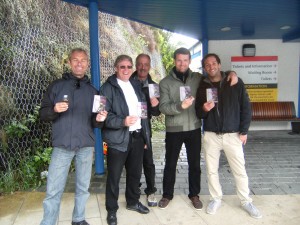 The Paps were shrouded in mist as we took the 4-minute ferry journey over to Jura. When we arrived at the distillery we were ushered into the glamorous new reception centre to begin our tour.
Distillery Manager, Willie Cochrane took us into the mash house and the still room and whilst sharing some of his extensive knowledge of whisky making, he gave us a large dram of the delicious Prophecy. Prophecy is the dram I was drinking when the Whisky for Girls idea was conceived ~ so it is very dear to my heart! Prophecy is slightly peaty with a fresh green aspect just after the middle. Jura is always so smooth and velvety. I love it.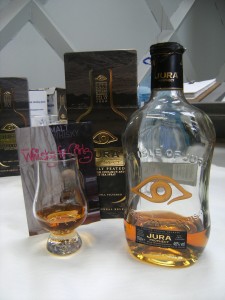 Then we were royally entertained in the warehouse by Willie Tait who talked us through some of the Jura 'family' of whiskies. Richard Patterson talked to us about blending, and we headed off to the filling store for more drams and a plate of venison stew. The only inhospitable thing about Jura is the midges!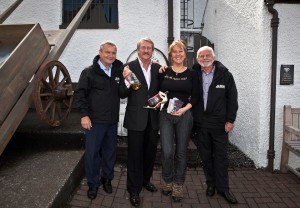 Whisky for Girls got their picture taken with the Jura Boys and a bottle of Prophecy. All in all a very good day!

Thanks to Konrad Borkowski for photo.