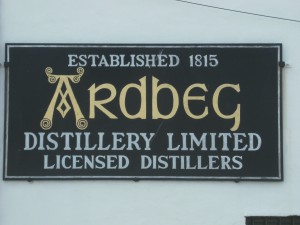 Ardbeg Open Day entertained with good music, huge festival bottles of whisky and a great crowd.
Manager Mickey Heads and Stillman Neil Philco gave masterclasses where the participants tasted six drams ~
Still Young, 10-year-old Cask no 2163 57.8% from 2002, 14-year-old from a sherry cask Cask 2722 53.9%, 16-year-old refill Bourbon Cask no. 2763 50.2% bottled in 1995, 21-year-old from a sherry cask bottled in 2002 and 1975 36-year-old in warehouse cask No.4714.
Frank from Whisky Freunde Club in Cologne described the Ardbeg Festival Dram 56.7% as a "Long dry finish, fresh on the nose, young, sweet in original mouthfeel, and fruity with a bit of spice."
In the festival bottle queue, Whisky for Girls met John and Glenis ~ a couple whose love affair with whisky created their own love affair. They were married in Islay in a romantic ceremony with a couple of strangers as their witnesses. They have an amazing collection of rare Ardbegs. Glenis hunts them down, presenting John on his birthday with bottle number 4700 from the Japanese market, released in 2002. 'I hound people until they give me what I want!", Glenis told me.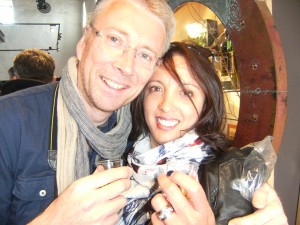 People danced with the flags from their country as the band played…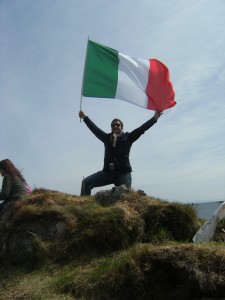 And Manager's wife, Margaret was crowned Queen of Ardbeg…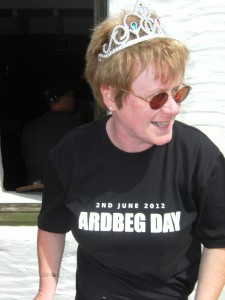 Another great day where the sun shone and the drams flowed!
Whisky for Girls would like to thank everyone who joined IT'S NOT JUST WHISKY FOR GIRLS CLUB. We would like to thank everyone who granted us an interview, and/or gave us some lovely drams to taste. We would like to thank everyone who supported Whisky for Girls in any shape or form over the duration of the festival and we look forward to welcoming you all back next year!
SLAINTE!