Feis Ile – Caol Ila Day
ANOTHER FINE DAY AT THE MEDITERRANEAN ISLAY WHISKY FESTIVAL!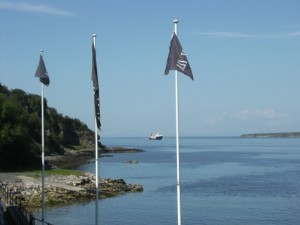 A mellow, relaxed, easy day at Caol Ila Distillery Open Day. The ferry sailed down the Sound of Islay on a mirror of blue and as the band played in the courtyard, we sat on the balcony with Distillery Manager, Billy Stitchell and tasted 5 Caol Ila drams.

We sampled the Moch, the 18-year-old, 2007 only available at the distillery, the new Festival bottling, and the 25 years old ~ not cask strength.
The 25-year-old went so well with a mini black cherry chocolate log. I don't really like this fashion for whisky with chocolate, but this pairing worked really well!

Manager Billy wandered about the balcony chatting informally with everyone. Ewald Baron, a seasoned festival attendee posed for a picture with Billy and the festival bottle. Billy told us he chose the festival dram about two months ago. From a range of about 20 casks, he narrowed it down to six, and from them chose the Festival Dram 2012. Sometimes it is really tight for time waiting for the new bottles to arrive ~ sometimes they are only being delivered on the day! Ewald said that the tasting dram was not generous enough to make a value judgment on the festival bottling. After one sip it was finished and therefore one was unable to add water to assess another aspect of the dram.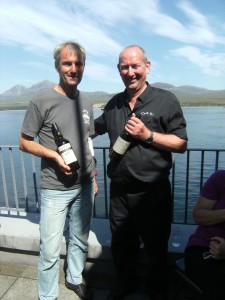 After a leisurely time sampling the drams on the balcony we wandered downstairs where jovial Diageo engineer, Alasdair Campbell poured us a lovely dram of Caol Ila Distillers Edition.

We wandered down the pier, spoke with Justin Ruthven ~ Tyres – and looked at his wooden yacht named Caol Ila. Justin has written a book about 7 years he and his wife Linda spent in the boat sailing around the Celtic areas of Europe http://www.justintyers.co.uk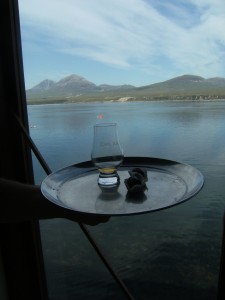 The time spent at Caol Ila was leisurely, the views were phenomenal, and the drams were delicious.
All in all a very mellow, sweet, yet, earthy day ~ a bit like the Caol Ila drams themselves!