When Whisky for Girls (& Guys!) saw the new Valinch from Bruichladdich, we knew we had to get a bottle.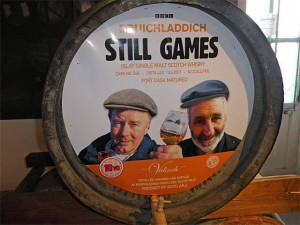 As usual, the Bruichladdich Team are in good witty form with this offering ~
Still Game is a Scottish Television show which is extremely funny ~http://www.bbc.co.uk/scotland/tv/chewinthefat/jack_and_victor/still_game/
http://www.comedy.co.uk/guide/tv/still_game/episodes/
Jack and Victor, the main characters, are two Glaswegian pensioners going about their lives and getting into scrapes.
Calling the Valinch Cask 'Still Games' is witty on so many levels ~ McEwan and McGillivray are still game, Still Games are what is needed to make a whisky…….
Seeing Jim McEwan and Duncan McGillivray in the style of Jack and Victor gives the locals such a good laugh, because they are both great comedy duos ~
It is heart warming that these two Islay men ~ icons of the whisky world, have the humour and the self confidence to create this joke involving themselves and icons of the comedy world ~ (some may say it is difficult to know which icons are which…..)
On Friday August 16, Whisky for Girls (& Guys!) took ourselves off to Bruichladdich to fill a bottle of the Still Games golden nectar.
video of cask filling ~ http://youtu.be/vvbmiJU53Oc

This dram is 10 years matured in a Port Cask and comes in at 62.2% alcohol by volume ~ so plenty dram for your buck!
The Valinch series from Bruichladdich are individual casks from which members of the public can come into the distillery and hand fill a 500ml bottle. My bottle is number 131 out of 450 bottles from the Still Games cask.
This individual bottling is available until the cask is drained, then a different one is brought in and set up for hand filling. These bottlings are exclusive to the distillery and are not available for general release.
This means you must come to Bruichladdich and fill them yourselves!
Amy worked as a tour guide over the summer before heading off to Jordanhill College to do teacher training ~ she got her own Still Game bottle ~ even more exclusive than mine…..
Her bottle has a picture of herself and apprentice blender, Adam Hannett on it ~ and was signed by everyone in the distillery ~
This is a very strong, dryish dram. I bought it on spec because I loved the wit of the name ~ I haven't even tasted it…..
So, tasting notes are welome!
Whisky for Girls (& Guys!) had a great time, thanks to Raymondo for taking our video and for looking after us so well, and thanks to all at Bruichladdich for your wit ~ greatly appreciated in these days of such troubles in the world.
We look forward to the next Valinch cask, and hope the name and label makes us laugh as much as this one has ~ it is true what they say:
~ wit sells…….!