The Islay Whisky Academy 2019 Competition
We are delighted to announce that the winner chosen by the
First Minister of Scotland is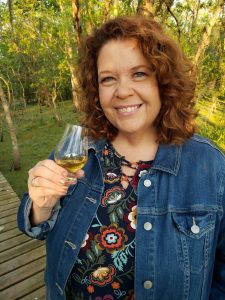 LEE ANN KILLETT RAYNER
from Atchafalaya, West of Baton Rouge, Louisianna.
CONGRATULATIONS!!
Lee Ann writes Scotch on the Bayou
************************************************
The First Minister has asked that I pass on additional congratulations to all entrants for their impressive entries. We had over 80 entries. There was a Short List of 12 sent to Nicola Sturgeon. Scotland's First Minister made the very difficult choice of picking a worthy winner.
Thank you to every one who took the time to send an amazing entry. I was delighted and humbled to read the wonderful heartfelt words.
We asked people to tell us how winning a place on The Islay Whisky Academy Diploma Course 2019 would benefit them, Scotch and Scotland.
This is Lee Ann's winning entry ~
Dear Rachel MacNeill and First Minister of Scotland, Nicola Sturgeon:
Why I Wish to Attend:
On a solo trip to Scotland in 2016 I decided to tour the Oban Distillery to see how the three simple ingredients could become whisky. As a technical writer, I'm naturally curious about processes and sequences of production. I'm fascinated to see how people integrate with machines to make things.
It was at Oban that I had my very first taste of whisky. The world changed for me at that moment. I could not believe how much I liked it. How could I like this when I didn't like bourbon? Then I went to Islay and I toured Laphroaig. In the words of Monty Python, "and now for something COMPLETELY different." Holy smoke – literally!
I discovered many things traveling the Scottish Highlands and Islands about the beautiful land, its people and about myself. And I found out that Scotch was my drink. And this drink has been a game changer. Since that tour I've studied to learn more about the process, chemistry and the variables that make such different flavor profiles of whisky. I've found something that I really enjoy. Best of all, I've met so many wonderful whisky people I now call dear friends.
Attending the Islay Whisky Academy would provide a "next level" experience in my journey with whisky and help me spread the gospel of Aquavitae.
Personal Benefits:
Having the opportunity to go through the Islay Whisky Academy will not only give me hands-on experience but more importantly provide a view of the human element – the force beyond the mechanics – and how determination, experience and craft shapes the whisky, making it unique to its creators.
I want to understand how decisions are made that shape the whisky – to get inside the head of the distiller and see the "what" and "how" and "why." I'd like to learn the intrinsic factors of planning, formulating the flavor profiles, making decisions on casking, and the logistics of production.
Benefits to Scotch and Scotland:
Those who know me know how much I love both Scotch AND Scotland. I'm very good at sharing my thoughts on both subjects.
In November 2018, I launched my Instagram account @ScotchOnTheBayou as a creative outlet to share my experience and thoughts on whisky and showcase my beloved Louisiana and its culture. With encouragement from whisky buddies and my supportive, loving husband, I created my blog ScotchOnTheBayou.com because I found I had a lot to say. The site features bottle reviews and reports on my travels, including Scotland.
I believe I have a voice of a very important and vastly underrepresented demographic: independent, adventurous women over 50. These women have accomplished a lifetime of work and success but are still relegated to the vodka and schnapps aisle of the liquor store. No more. I want to help other women learn more about the world of whisky, specifically scotch, and that they don't have to be afraid of it nor ask permission to partake in what we've always been told was a "man's drink."
With more than 30 years of marketing, communications and writing experience, my strength is getting out that message. My interest in scotch whisky isn't going away. I'm all in and already working on communicating that with others on social media and in whisky groups. I'm making connections with others in the social media "whisky fabric" and it is a prime platform to promote both Scotch and Scotland.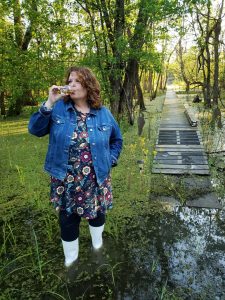 The Islay Whisky Academy are delighted that Lee Ann of Scotch on the Bayou will be joining us for 5 Days full on study at the Diploma Certificate Course in Islay on 21 – 25 October 2019.
In a day or two, we will do a feature on the some of the other amazing entries that we received. Every single person who entered is a winner in my book.
CONGRATULATIONS Lee Ann, and Thank you to EVERYONE who participated.
Thank you to Nicola Sturgeon First Minister of Scotland for taking the time to support The Islay Whisky Academy – especially at this important time in Scottish and World Politics. 
www.IslayWhiskyAcademy.scot