Nosing story
from
LAPHROAIG 10 YEARS OLD CASK STRENGTH 56.3% Batch 007 Bottled Jan 15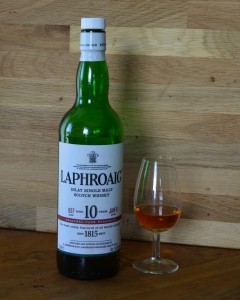 Creeeakkkk, dthummmpppdh!! cork out.
Warm, orange gold, furry, cosy
underneath, a layer ~ strong, rustic, foreign. But, familiar; from somewhere you vaguely know of.
Cooking, a kitchen: your father coming in from outside and bringing inside;
the ghosts of the past. Knitted rope jumper, blue trousers, maybe jeans, blue turned-down wellies.
The room is warm. your mother, your aunty are there.
Expectation, return.
He has been abroad. raisins, exotic.
Big, strong, smiling, bashful, affectionate.
An aga or Rayburn, some kind of stove.
You are connected to the house. Parents? Grandparents?
Mystery, church.
Refined but rustic. Mannerly.
Blonde, tumbled fair hair.
Duffle bag, matches, two dogs. harmonica.
23 or 24. Wee brother running in, shorts and wellie boots, needing the loo, tousled hair, knitted jumper with intricate stripes
Singing, pipes and singing.
Duffle bag – fruit and small painting – Holland, windmill.
Everyone shouting at once crying, happiness – cake, tea, wooden table,
standing at the white porcelain sink, tiles on the floor.
Hands in his pocket.
Allowed to stay up late, sitting around the kitchen table, oilcloth tilley lamp calmly hissing on chain, above the table
food – soup, good homemade soup, scones, bread, cold mutton, homemade butter. Green bottles on the table, everyone has a golden glass.
Ruffling wet dog's pelt. Gently steaming in the warmth.
Now 10pm was 6pm
Someone else arrives, down the pier.
Laughter, affection, warmth
Belonging, security, circled in.

****************************
Slainte!