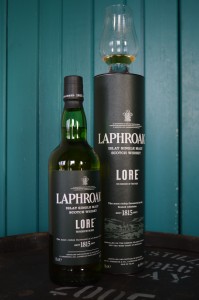 Laphroaig LORE. 48% abv (alcohol by volume)
Ex bourbon casks, 1st fill sherry butts, Quarter casks & "some of our most precious stock" Ages from 7 – 21 YO.
The new NAS (None Age Statement) from Laphroaig.
I LOVE it. I love the salt and the cold fashion of it.
And besides, NAS is only a concept in the same way AGE Statement is a concept. In 19-canteen no one really went on about age. Age was only brought to the forefront to 'legitimise and make sonorous' Scotch malt whisky, when we started to promote it, instead of blends.
Colour:
Golden – pale hints of amber. You can hear the whisky 'chinking' in the glass when you swirl it.
Nose:
Vinegar on fish & chips
Verdant, green moss. Raspberries.
Doughy – reminds me of uncooked shortbread being rolled out.
Light, floaty. ROUNDED.
Now, cooked shortbread fingers.
Warm & Stuffy. Makes me think of little legs in wellies… red wellies. Colouful knitted leg warmers from the 80's!
Rubbery hints underneath.
Got to seek out the middle.
Palate:
Chalky stone.
Tingly, peppery sweetness. Open space in the heart of the dram, it's hard to find (all style and no substance….?!)
I think of frills and blue lace at the side of the construct. And, sweetheart bracelets and necklaces made of pastel sweets we wore to nibble on at school.
Then, something made me think of a ballon when it pulls your hair out from your head with the static!
Now, lightening gives nitrogen to the earth ~ which gives amonia in barley… so did I smell the TCP of Laphroaig in a different way to usual and translate it as this image..??
Next, there is a grown up deeper layer undeneath. So salty, but a lovely sweet mouthfeel.
Salty at the back of the mouth and sweet at the front.
I like this dark sherry and peat combo. And salt is the next big thing.
Fashion is a nightclub ~ two out, one in…. out with Pete, out with Ester; in with Salt!
A cool fashionable dram. Like thin, bitter-sweet, dark chocolate.
This style is a new thing.
Slainte Mhath!