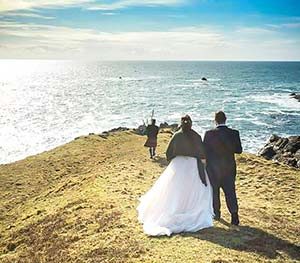 One off special events involving Magic and Whisky and Islay…. ask for details & talk about what you would like and we will make it specially for you.
We will think of wonderful experiences for you that you didn't even know you wanted!
This year we hosted a beautiful Celtic Wedding Ceremony for Emily & Mike – who eloped, and we were their wedding guests. It was beautiful.
We also hosted a Magical Fairytale Day for 7 ladies from Canada who had a picnic in the woods, which appeared by magic as if prepared by the wood fairies, and a chocolate and whisky pairing at a sun circle, amongst other special experiences.
This is what we love doing – making really special, unusual different things for people #WhiskyMagic. Contact us if you would like something like this for yourself – both visitors and locals, for both men & women. Whisky Magic is for everyone!
We can provide boats, tipis, whisky, food, kayaking, hiking, treasure, mystery, target shooting, stories, magic, myths, memories – and most everything else.
Contact [email protected]